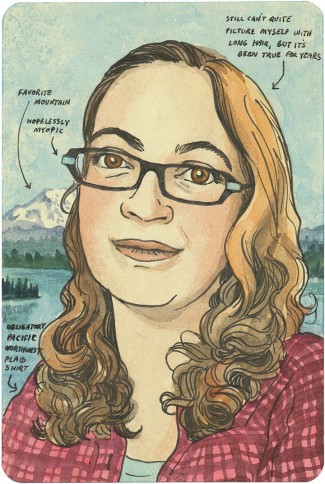 I am an illustrator, letterer(erer) and entrepreneur living and working in Tacoma, Washington. I graduated from the Rhode Island School of Design (RISD), and I started my one-woman business in 2004. I was born 50 miles west of Wall Drug, grew up on Cape Cod, spent a year in Rome, and have crept more or less westward ever since. Now I've settled in a historic Craftsman house overlooking Puget Sound, where I get to hear gulls crying and sea lions barking—my favorite sounds in the world. I spend my days drawing pictures and every free moment criss-crossing the continent on winding back roads.
In addition to doing illustration and lettering for clients, I spend a lot of my time on personal side projects, like the prints and stationery I create under my house brand, Anagram Press. I also post my sketchbook drawings and road-trip-themed artwork on my illustrated travel blog, Drawn the Road Again. And I am one half of the team behind the Dead Feminists series, and our first book was published in October 2016 by Sasquatch Books. My next book, The Best Coast: A Road Trip Atlas, came out in April 2019 and is now available!
Still have questions about who the heck I am or what I do? Try my FAQ.

Guest Curator: Washington State History Museum, Tacoma, WA, 2018-2019
Visiting Artist: Antenna, New Orleans, LA, 2018
Visiting Artist: Whitworth University, Spokane, WA, 2018
Pacific Northwest Book Award: Pacific Northwest Booksellers Association, 2018
Foundation of Art Award: Greater Tacoma Community Foundation, 2017
Juror: Rising Together Exhibition, College Book Arts Association, 2017
Instructor: School of Visual Concepts, Seattle, WA, 2009-2017
Visiting Artist: Longwood University, Farmville, VA, 2017
Featured Artist: Mapping the Cosmos, CODEX Foundation letterpress broadside collection, 2016
Featured Artist: The Women on the Mother Road, Assertion Films oral history project, 2016
GAP Award: Artist Trust, Seattle, WA, 2015-2016
Tacoma Artists Initiative Program Award: Tacoma Arts Commission, 2015-2016
Nominee: Foundation of Art Award, Greater Tacoma Community Foundation, 2013
Visiting Instructor: Penland School of Crafts, Penland, NC, 2012
Bronze Award: Excellence in Design, CASE Awards, 2012
Board Member: Book Arts Guild, Seattle, WA: 2009-2012
Featured Artist: Roadworks, San Francisco Center for the Book, CA, 2011
Featured Speaker: Art & Industry, first-annual Ladies of Letterpress Conference, Asheville, NC, 2011
Selected Artist: Public Art: In Depth, City of Tacoma, WA, 2011
Juror: Senior Art Show Exhibition, Franke Tobey Jones, 2011
Tacoma Artists Initiative Program Award: Tacoma Arts Commission, 2009-2010
Nominee: Foundation of Art Award, Greater Tacoma Community Foundation, 2009
Finalist: Art vs. Design, Artists Wanted, Brooklyn, NY, 2009
Artist-in-Residence: Minnesota Center for Book Arts, Minneapolis, MN, 2007
Minnesota Book Award: Minnesota Humanities Commission, 2005
Visiting Artist: Minnesota State University Moorhead, Moorhead, MN, 2003

Words of Action, PCAF Gallery, Tacoma, WA, 2018
conTEXT, Antenna, New Orleans, LA, 2018
Re-Sisters, Bryan Oliver Gallery, Whitworth University, Spokane, WA, 2018
She Tells Sea Tales, NW Maritime Center Gallery, Port Townsend, WA, 2017
Broad Words, Longwood Center for the Visual Arts, Farmville, VA, 2017
The 50 States, School of Visual Concepts Gallery, Seattle, WA, 2016-2017
Bold Broadsides & Bitsy Books, National Museum of Women in the Arts, Washington, DC, 2016-2017
Farm to Table, Collins Memorial Library, Tacoma, WA, 2016-2017
Make-Ready: Dead Feminists from Print to Page, 23Sandy Gallery, Portland, OR, 2016
Dead Feminists: Broads and Broadsides, School of Visual Concepts Gallery, Seattle, WA, 2016
The 50 States, Ted Sanford Gallery, University Place, WA, 2016
Jaunt + Jot, Feast Arts Center, Tacoma, WA, 2016
Drawn the Road Again, Handforth Gallery, Tacoma, WA, 2014
You'll Like Tacoma, Brooks Dental Studio, Tacoma, WA, 2014
Hillside Sketchbook, Woolworth Windows, Tacoma, WA, 2012
Local Conditions, Collins Memorial Library, Tacoma, WA, 2010-2011
Feminist Wiles, Ted Sanford Gallery, University Place, WA, 2010
Mnemonic Sampler, The Tempest, Tacoma, WA, 2010
In Her Element, Tacoma Contemporary, Tacoma, WA, 2009
Flock, Rosewood Cafe, Tacoma, WA, 2009
Mnemonic Sampler, Pacific Lutheran University Gallery, Parkland, WA, 2009
To the Letter, Collins Memorial Library, Tacoma, WA, 2009
The Faery Gardener, Minnesota Center for Book Arts, Minneapolis, MN, 2007
Collected, Gallery 4, Fargo, ND, 2003

Art Center College of Design (Archetype Press Collection), Pasadena, CA
Bainbridge Island Museum of Art (Cynthia Sears Collection), Bainbridge Island, WA
Baylor University (Crouch Fine Arts Library), Waco, TX
Baylor University (Moody Memorial Library), Waco, TX
Brigham Young University (Harold B. Lee Library), Provo, UT
Brown University (Harris Collection of American Poetry & Plays), Providence, RI
Carleton College (Gould Library), Northfield, MN
Carnegie Mellon University (Hunt Library), Pittsburgh, PA
City of Kitakyushu (Mayor's Office Collection), Kitakyushu, Japan
City of Tacoma (Portable Works Collection), Tacoma, WA
City of Tacoma (Public Art Collection), Tacoma, WA
Denison University (Doane Library Special Collections), Granville, OH
Duluth Public Library (Duluth Collection), Duluth, MN
Emory University (Woodruff Library), Atlanta, GA
George Mason University (Fenwick Library), Fairfax, VA
Harvard University (Widener Library), Cambridge, MA
Hennepin County Library (Hosmer Special Collections), Minneapolis, MN
Hennepin County Library (Ridgedale Library), Minnetonka, MN
Idaho State University (Eli M. Oboler Library), Pocatello, ID
International Printing Museum (Prints Collection), Carson, CA
Lafayette College (Skillman Library Special Collections), Easton, PA
Library of Congress (Rare Book & Special Collections Division), Washington, DC
Longwood Center for the Visual Arts, Farmville, VA
Miami University Library (Havighurst Special Collections), Oxford, OH
Minneapolis College of Art & Design Library, Minneapolis, MN
Minnesota Center for Book Arts (Alcott Library), Minneapolis, MN
Minnesota History Center (Library Special Collections), Saint Paul, MN
Multnomah County Library (Wilson Special Collections), Portland, OR
National Museum of Women in the Arts, Washington, DC
Newberry Library (Americana Collection), Chicago, IL
Northwestern University (Deering Library Special Collections), Evanston, IL
Nova Southeastern University (Farquhar College of Arts & Sciences), Fort Lauderdale, FL
Occidental College (Mary Norton Clapp Library), Los Angeles, CA
Phoenix Public Library (Rare Book Room), Phoenix, AZ
Pierce County Art Bank (Portable Works Collection), Tacoma, WA
Radcliffe Institute (Schlesinger Library on the History of Women in America), Cambridge, MA
Rhode Island School of Design (Fleet Library), Providence, RI
Ringling College of Art & Design (Goldstein Library), Sarasota, FL
Robert Russa Moton Museum, Farmville, VA
Rochester Institute of Technology (Cary Graphic Arts Collection), Rochester, NY
Saint Olaf College (Rolvaag Memorial Library), Northfield, MN
San Diego State University (Special Collections), San Diego, CA
San Francisco Center for the Book (Prints Collection), San Francisco, CA
San Jose State University (King Library), San Jose, CA
School of the Art Institute of Chicago (Flaxman Library), Chicago, IL
Scripps College (Ella Strong Denison Library), Claremont, CA
Seattle Art Museum (Bullitt Library), Seattle, WA
South Berwick Public Library (Special Collections), South Berwick, ME
Stanford University (Bowes Art & Architecture Library), Palo Alto, CA
Stanford University (Green Library American History Collection), Palo Alto, CA
State Library of New South Wales (Mitchell Library), Sydney, Australia
Tauber Holocaust Library, San Francisco, CA
Topeka & Shawnee County Public Library (Special Collections), Topeka, KS
University of Alberta (Rutherford Library, Bruce Peel Special Collections), Edmonton, AB, Canada
University of Arizona Libraries (Special Collections), Tucson, AZ
University of California Berkeley (Bancroft Library Special Collections), Berkeley, CA
University of California Davis (Shields Library Special Collections), Davis, CA
University of California Los Angeles (Darling BioMedical Library Special Collections), Los Angeles, CA
University of California Los Angeles (Young Research Library Special Collections), Los Angeles, CA
University of California Riverside (UCR Library Special Collections), Riverside, CA
University of California San Diego (Geisel Library Special Collections), San Diego, CA
University of California Santa Barbara (Davidson Library Special Collections), Santa Barbara, CA
University of California Santa Cruz (McHenry Library Special Collections), Santa Cruz, CA
University of Connecticut (Dodd Research Center), Storrs, CT
University of Delaware (Morris Library Special Collections), Newark, DE
University of Denver (Penrose Library Special Collections), Denver, CO
University of Indianapolis (Krannert Memorial Library), Indianapolis, IN
University of Iowa Center for the Book, Iowa City, IA
University of Iowa Libraries (Special Collections), Iowa City, IA
University of Miami (Richter Library, Artists' Books Collection), Coral Gables, FL
University of Nevada, Reno (Mathewson-IGT Knowledge Center), Reno, NV
University of Puget Sound (Collins Memorial Library), Tacoma, WA
University of Southern California (Doheny Library), Los Angeles, CA
University of Utah (Marriott Library), Salt Lake City, UT
University of Vermont (Bailey/Howe Library), Burlington, VT
University of Virginia (Small Special Collections Library), Charlottesville, VA
University of Washington Libraries (Book Arts Collection), Seattle, WA
University of Wisconsin (Kohler Art Library), Madison, WI
Virginia Commonwealth University (Cabell Library Special Collections), Richmond, VA
Walker Art Center (Furtak Collection), Minneapolis, MN
Washington State Historical Society (WA State History Research Center Collections), Tacoma, WA
Washington State Library (Special Collections), Tumwater, WA
Wesleyan University (Olin Library Special Collections), Middletown, CT
Whitworth University (Cowles Memorial Library), Spokane, WA
Yale University (Haas Arts Library Special Collections), New Haven, CT

The Book as Art: The Page and Beyond, Columbia City Gallery, Seattle, WA, 2019 (upcoming)
A Thousand Words' Worth, Washington State History Museum, Tacoma, WA, 2019
Open Sesame: The Magic of Artist's Books Revealed, Bainbridge Island Museum of Art, Bainbridge Island, WA, 2019
Letterpress: Making Impressions, The Art Project, Bainbridge Island, WA, 2019
Rising Together: Artists' Books & Prints with a Social Conscience, 2018-2021
    Traveling exhibition – venues include:
– Fall 2018: University of Utah Marriott Library, Salt Lake City, UT
– Spring 2019: Center for Book Arts, New York, NY
– Fall 2019: University of Iowa Center for the Book, Iowa City, IA (upcoming)
– Spring 2020: Hoffmitz Milken Center for Typography, ArtCenter College of Design, Pasadena, CA (upcoming)
– Fall 2020: University of Puget Sound Collins Library, Tacoma, WA (upcoming)
– Spring 2021: Mills College (in conjunction with San Francisco Center for the Book), Oakland, CA (upcoming)
Seed the Vote, Kohler Art Library, University of Wisconsin, Madison, WI, 2018
Book, Art, Object, Penrose Library, Whitman College, Walla Walla, WA, 2018
Decade, Brooks Dental Studio, Tacoma, WA, 2018
Wonder Women, National Museum of Women in the Arts, Washington, DC, 2017
GTCF Foundation of Art Award, Spaceworks Gallery, Tacoma, WA, 2017
Wayzgoose, Woolworth Windows, Tacoma, WA, 2017
Northwest Musings, Collins Memorial Library, Tacoma, WA, 2017
The Illustrated Accordion, Kalamazoo Book Arts Center, Kalamazoo, MI, 2017
Letterpress Hullaballoo, Christel DeHaan Fine Arts Center Gallery, Indianapolis, IN, 2017
Slinging Ink, Chartreuse Gallery, Phoenix, AZ, 2016
Type, Paper, Scissors: A Broadside Exhibit, Transition Gallery, Pocatello, ID, 2016
Heavy Metal, Berkeley Art Works, Martinsburg, WV, 2016
Bridging the Waters, Centre for Fine Print Research, University of West England, Bristol, UK, 2016
The Art of the Book, Sebastopol Center for the Arts, Sebastopol, CA, 2016
Wayzgoose, traveling exhibition:
– Woolworth Windows, Tacoma, WA, 2016
– Brooks Dental Studio, Tacoma, WA, 2016
6th Annual Puget Sound Book Artists, Collins Memorial Library, Tacoma, WA, 2016
Just One Look, Special Collections Gallery, University of Washington Libraries, Seattle, WA, 2016
Flow, 23Sandy Gallery, Portland, OR, 2016
The Story Depends on the Teller: Book Arts in the Pacific Northwest, Pacific Lutheran University Gallery, Parkland, WA, 2016
Multiple Voices, Multiple Histories: Reimagining the Civil War, Alice C. Sabatini Gallery, Topeka, KS, 2016
Ladies of Letterpress Book Show, Bookworks Gallery, Asheville, NC, 2015
Beyond Brand, Form + Content Gallery, Minneapolis, MN, 2015
Bakken Boom: Artists Respond to the ND Oil Rush, Plains Art Museum, Fargo, ND, 2015
The Contained Narrative: Defining the Contemporary Artist Book, MCBA Gallery, Minneapolis, MN, 2015
Carpe Librum 2015, Bainbridge Arts & Crafts Gallery, Bainbridge Island, WA, 2015
Artifacts of Loss: Memorial in Artists' Books, UW Allen Library Special Collections Gallery, Seattle, WA, 2015
5th Annual Puget Sound Book Artists, Collins Memorial Library, Tacoma, WA, 2015
Curated Collection: Broadsides, 23Sandy Gallery, Portland, OR, 2015
CODEX Finds, 23Sandy Gallery, Portland, OR, 2015
Sacred/Profane, 23Sandy Gallery, Portland, OR, 2014
The Mother Hen Project, Room Gallery, Mill Valley, CA, 2014
Capitolized, TypeCon, Washington, DC, 2014
Grafiikan Mestareita (Masters of Printmaking), Galleria Dix, Helsinki, Finland, 2014
Ink This, Tacoma Art Museum, Tacoma, WA, 2014
The Printed Page, Abecedarian Gallery, Denver, CO, 2014
Book Power Redux, traveling exhibition:
— 23Sandy Gallery, Portland, OR, 2014
— Collins Memorial Library, Tacoma, WA, 2014
Wayzgoose Retrospective, Brooks Dental Studio, Tacoma, WA, 2014
Tacoma Playing Cards, STAR Center, Tacoma, WA, 2014
Steamroller Prints, Ted Sanford Gallery, University Place, WA, 2014
Undercover Stories: the Secret Lives of Books, artEAST Gallery, Issaquah, WA, 2014
Wordplay: The Materiality of Text in the Modern Book Arts, Suzzallo Library, Seattle, WA, 2014
Wayzgoose, Woolworth Windows, Tacoma, WA, 2014
The Art of Wayzgoose, Pacific Lutheran University Gallery, Parkland, WA, 2014
4th Annual Puget Sound Book Artists, Collins Memorial Library, Tacoma, WA, 2014
Feast, 23Sandy Gallery, Portland, OR, 2013
Eläin (Animal), Brooks Dental Studio, Tacoma, WA, 2013
Confluence, Brooks Dental Studio, Tacoma, WA, 2013
Setting Sail: Artists at Sea, Brooks Dental Studio, Tacoma, WA, 2013
Foundation of Art, Brooks Dental Studio, Tacoma, WA, 2013
The Creative World of Book Arts, Brooks Dental Studio, Tacoma, WA, 2013
Steamroller Prints, Ted Sanford Gallery, University Place, WA, 2013
Wayzgoose, Woolworth Windows, Tacoma, WA, 2013
Tacoma Playing Cards II, STAR Center, Tacoma, WA, 2013
3rd Annual Puget Sound Book Artists, Collins Memorial Library, Tacoma, WA, 2013
Tacoma Wayzgoose, Ted Sanford Gallery, University Place, WA, 2013
INKED! Contemporary Northwest Letterpress, 23Sandy Gallery, Portland, OR, 2012
Expanding Communities, BookWorks Gallery, Asheville, NC, 2012
Anniversary Broadside Exhibition, Arsenal Center for the Arts, Watertown, MA, 2012
Posted, Printmaking Center of New Jersey, Branchburg, NJ, 2012
Instructors, Penland Gallery, Penland, NC, 2012
Exploding the Codex, Austin/Burch Gallery, San Francisco, CA, 2012
Foundation of Art, B2 Gallery, Tacoma, WA, 2012
2nd Annual Puget Sound Book Artists, Collins Memorial Library, Tacoma, WA, 2012
Abecedaria, Mid-America Print Council Biennial, Gape Girardeau, MO, 2012
Sister Cities, Kitakyushu Cultural Festival, Kitakyushu, Japan, 2012
Tacoma Playing Cards, Amocat Cafe, Tacoma, WA, 2012
Tacomapocalypse, Amocat Cafe, Tacoma, WA, 2012
The Apocalype Calendar, Challengers Comics, Chicago, IL, 2012
National Print Exhibition, Pacific Lutheran University Gallery, Parkland, WA, 2012
Wayzgoose, Woolworth Windows, Tacoma, WA, 2011
Ladies of Letterpress, BookWorks Gallery, Asheville, NC, 2011
Bookworks, Lewis-Clark State College Center for Arts & History, Lewiston, ID, 2011
Letterpress for Japan, Books Kubrick Gallery, Fukuoka, Japan, 2011
Parts of a Whole, Minnesota Center for Book Arts Gallery, Minneapolis, MN, 2011
Hand2Hand: The Book as Art, Columbia City Gallery, Seattle, WA, WA, 2010
Page Turner: Contemporary Artist Books, Burien Arts Gallery, Burien, WA, 2010
The Mother Hen Project, Galleria, San Anselmo, CA, 2010
Make No Little Plans, Logical Diagram Gallery, Tacoma, WA, 2009-2010
Wayzgoose, Woolworth Windows, Tacoma, WA, 2009
Feminist Art, Tacoma Community College Gallery, Tacoma, WA, 2009
Front, Back & Between, Minnesota Center for Book Arts Gallery, Minneapolis, MN, 2009
Broadsided!, 23Sandy Gallery, Portland, OR, 2009
The Sketchbook Project, traveling exhibition, selected venues:
— Art House Gallery, Atlanta, GA, 2009
— Museum of Contemporary Art, Washington, DC, 2009
— Laconia Gallery, Boston, MA, 2009
— Antena Gallery, Chicago, IL, 2009
— Chicago Art Source Gallery, Chicago, IL, 2009
— Soulard Art Market, St. Louis, MO 2009
— 3rd Ward Gallery, Brooklyn, NY, 2009
— Museum of Design, Atlanta, GA, 2009
Wayzgoose, Woolworth Windows, Tacoma, WA, 2009
National Print Exhibition, Pacific Lutheran University Gallery, Parkland, WA, 2009
Rock, Paper, Scissors, Collins Memorial Library, Tacoma, WA, 2008
49th Midwestern, Rourke Art Museum, Moorhead, MN, 2008
48th Midwestern, Rourke Art Museum, Moorhead, MN, 2007
Action/Interaction, Columbia College Center for Book & Paper Arts, Chicago, IL, 2007
Cultivate, Stevens Square Center for the Arts, Minneapolis, MN, 2007
New Work, Minnesota Center for Book Arts Gallery, Minneapolis, MN, 2007
47th Midwestern, Rourke Art Museum, Moorhead, MN, 2006
Books Abound, Metropolitan State University, Minneapolis, MN, 2005
Bookish, Minnesota Center for Book Arts Gallery, Minneapolis, MN, 2005
Spot-On, Minnesota Center for Book Arts Gallery, Minneapolis, MN, 2005
46th Midwestern, Rourke Art Museum, Moorhead, MN, 2005
45th Midwestern, Rourke Art Museum, Moorhead, MN, 2004
Illustration, Woods-Gerry Gallery, Providence, RI, 2003
Amorous Art, Rourke Gallery, Moorhead, MN, 2003
Show, ISB Gallery, Providence, RI, 2003
44th Midwestern, Rourke Art Museum, Moorhead, MN, 2003
A Woman's Perspective, Rourke Gallery, Moorhead, MN, 2002
Primavera (Spring), Palazzetto Cenci, Rome, Italy, 2002
I Libri dei Schizzi (Sketchbooks), Palazzetto Cenci, Rome, Italy, 2001

Blank is the New Black, Chicago, IL
Book Arts Guild, Seattle, WA
Broadway Center for the Performing Arts, Tacoma, WA
City of Tacoma, Tacoma, WA
Dandelion Wishes, Tacoma, WA
Destiny City Brewing, Tacoma, WA
Eastern Washington University, Cheney, WA
Encore Media, Seattle, WA
Exit 133, Tacoma, WA
Hooked on Books, Colorado Springs, CO
Igloo Letterpress, Worthington, OH
Irving House, Cambridge, MA
Kafe 421, Minneapolis, MN
Kazoo Magazine, Brooklyn, NY
King's Books, Tacoma, WA
Lettuce Press, Portland, OR
Madison Park Greetings, Seattle, WA
Meta Books, Tacoma, WA
Metro Parks, Tacoma, WA
Minneapolis Farmers Market, Minneapolis, MN
Minnesota Center for Book Arts, Minneapolis, MN
Minnesota Department of Natural Resources, Saint Paul, MN
Napa General Store, Napa, CA
Northwest Flower & Garden Show, Seattle, WA
Pacific Fabrics, Seattle, WA
Pint Defiance, Tacoma, WA
Quarto Publishing Group, Minneapolis, MN
Rhode Island School of Design, Providence, RI
Saint Martin's University, Lacey, WA
San Francisco Center for the Book, San Francisco, CA
School of Visual Concepts, Seattle, WA
Seven Stars Bakery, Providence, RI
Shelter Corporation, Hopkins, MN
Side x Side Creative, Tacoma, WA
Sonja Silver Apparel, Tacoma, WA
Stages Theatre, Hopkins, MN
Tacoma Community House, Tacoma, WA
Tacoma Food Coop, Tacoma, WA
Tacoma Makes, Tacoma, WA
Trollwood Performing Arts School, Moorhead, MN
University of Puget Sound, Tacoma, WA
Weatherly Inn, Tacoma, WA
Zerr Berg Architects, Fargo, ND
Save
Save
Save
Save
Save
Save
Save
Save
Save
Save
Save
Save
Save
Save
Save
Save
Save
Save
Save
Save
Save
Save
Save
Save
Save
Save
Save
Save
Save
Save
Save
Save
Save
Save
Save
Save